Wooden Pattern Color Coated Aluminum Coil For Acp And Roofing
Brand :Alkonce
Product origin :Zhengzhou
Delivery time :30 days
Supply capacity :3000 tons/month
Wooden aluminum coil have PE, PVDF, FEVE coating, bright color and strong durability is not easy to fade. Color is divided into pure color, stone grain, wood grain and embossing coil , wooden aluminum coil to meet the needs of different uses. and coated aluminum Can Be customized according to customer specifications and colors.

Wooden aluminum coil Strict quality control, each batch of products have to go through strict raw materials, paint and finished products testing, for indoor decoration products with SGS environmental testing certificate. To ensure that each batch of products meet customer requirements.

We constantly innovative research and development, embossing coating thickness with the world's leading level, outdoor solar mirror reflectivity 95% , 15-20 years warranty, anti-oxidation and corrosion, to the leading level.
Production Description

Wooden aluminum coil have different coating technology, such as PE and PVDF. We can simulate different wooden grain
aluminum coil according to customer's requirement. Wooden aluminum coil have advanced 3D simulation coating
technology, Wooden aluminum coil is the same as real wood. On adornment, already inherited the beautiful of lumber,
balanced the shortcoming of lumber again, achieve beautiful firm is durable, environmental protection effect.


DO YOU HAVE CLIENTS WHO WANT TO BUY WOODEN COLORED COATED ALUMINUM PRODUCTION?

ARE YOU LOOKINF FOR THE PRE-PAINTED WITH THIRD-PARTY REPORTS?

ARE YOU FINDING COMPETITIVE PRE-PAINTED ALUMINUM SHEET ?

HOW ABOUT A PERSON HELP YOU TO SOLVE THE PROBLEM AND LEAVE YOU SIT BACK AND RELAX?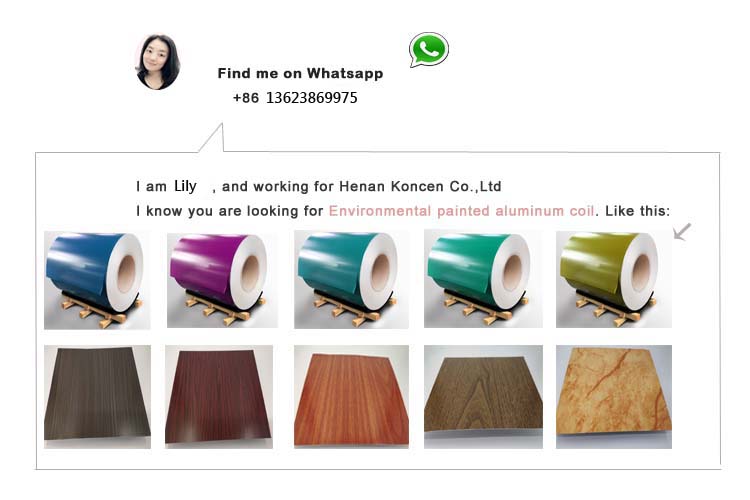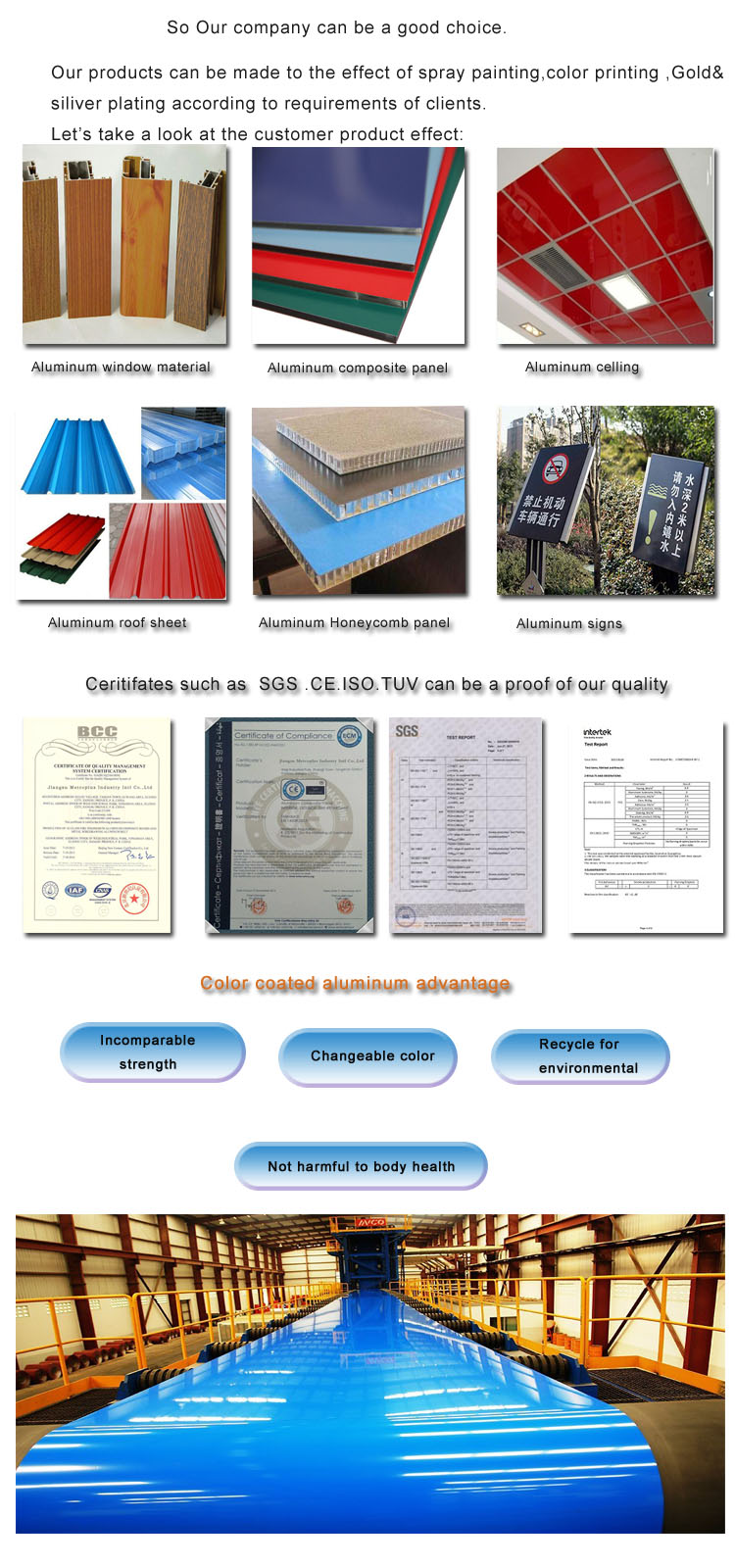 Because Wooden aluminum coil has advantages of light texture, bright color, easy molding, no rust, wooden colored coated aluminum is widely used in aluminum composite panel, honeycomb board, insulation board, aluminum curtain wall, window blinds, shutters, wooden aluminum magnesium manganese roofing system, aluminum ceiling, household appliances, gutters, aluminum cans and other areas. The color can be produces as customized, all specification can be produced as you want. As more and more people choose color coated aluminum as the decoration material, with advanced technology and people's hard working, the productivity of color coated aluminum coil will increase greatly!
Production details
WOODEN COLORED COATED ALUMINUM SHEET

Alloy

1000, 3000, 8000 series

Temper

O-H112

Thickness

From 0.02mm to 3.0 mm

Width

From 40- 1600 mm

Coating

PVDF, PE, HDPE, AC, FEVE, Double-PE

Surface

Embossed, mill finish, coated

Color

RAL or Customized

Coating Thickness

8-35 micron

Coating Type

Roll coating

Flexibility (T-bend)

≤2T
CHEMICAL COMPOSITION

Grade

Si

Fe

Cu

Mn

Mg

Cr

Zn

1050

0.25

0.4

0.05

0.05

0.05

/

0.05

1070

0.2

0.25

0.04

0.03

0.03

/

0.04

1100

1.0 (Si+Fe)

0.05-0.2

0.05

/

/

0.1

3003

0.6

0.7

0.05-0.2

1.0-1.5

/

/

0.1

3004

0.3

0.7

0.25

1.0-1.5

0.8-1.3

/

0.25

8011

0.05-0.9

0.6-1.0

0.1

0.2

0.05

0.05

0.1
Features:
1) Light weight, high strength, extreme rigidity, superior impact resistance
2) Excellent surface flatness and smoothness
3) Heat insulation, sound insulation, fire-resistance
4) Acid-resistance, alkali-resistance, good weatherproofing and non-resonance
5) Various uniform colors ,can be easily processed and fabricated, quickly installed
6) Elegant and magnificent, good flexibility fits various designs
7) Easily maintenance, simply cleaning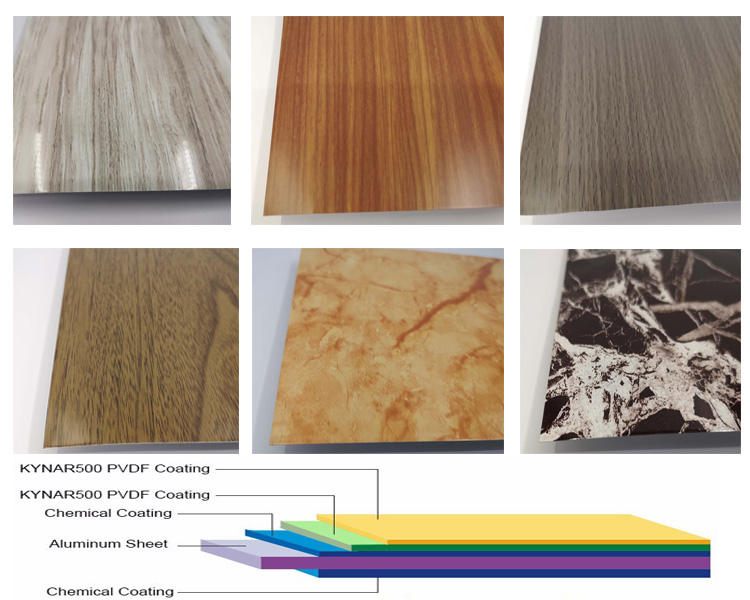 Test
Wooden aluminum coil test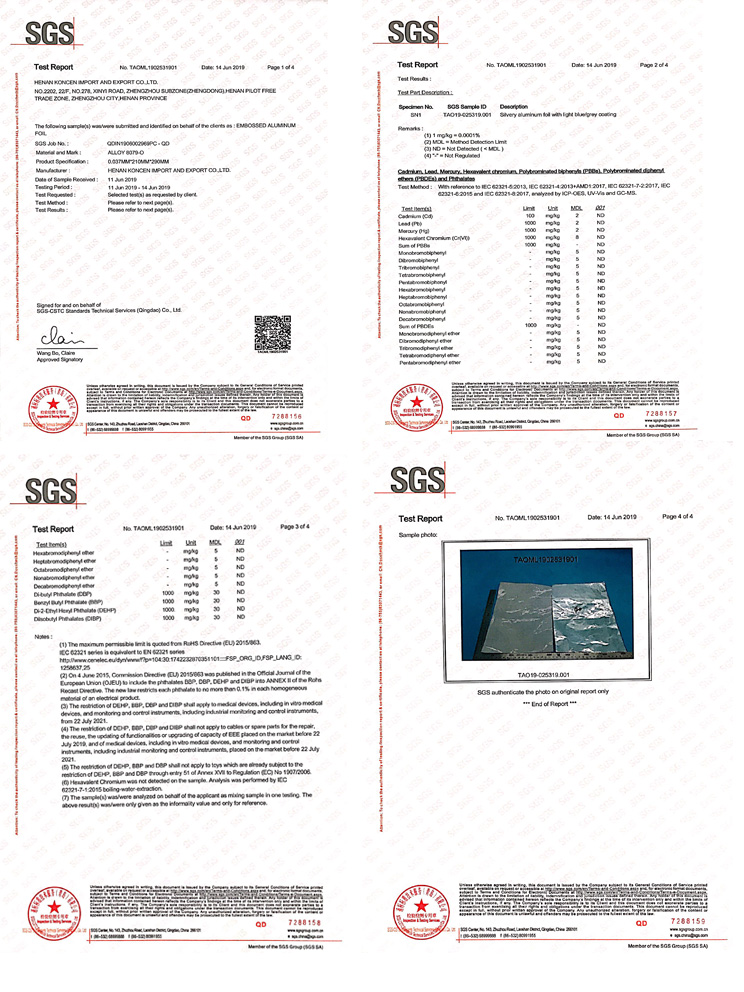 Packing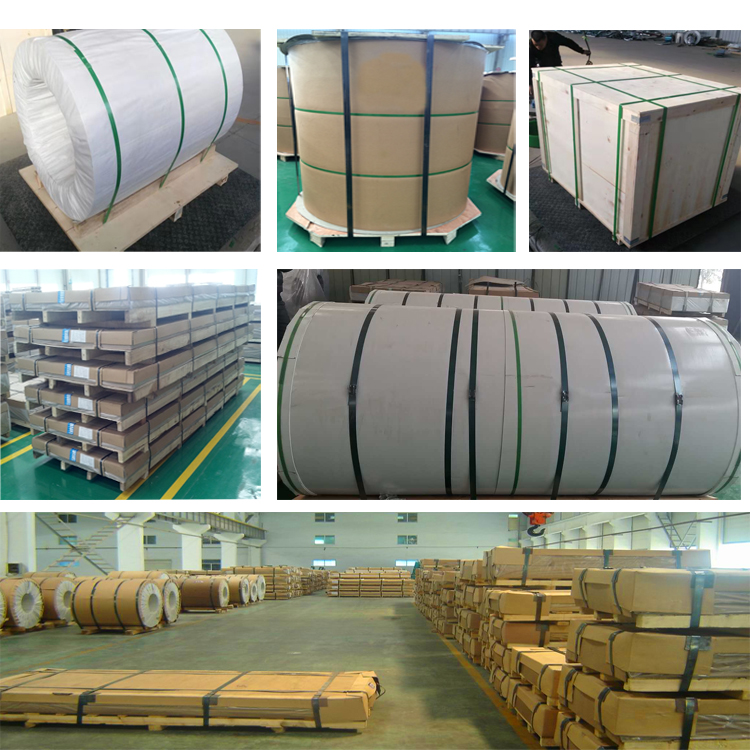 Colored wooden colored Aluminum /aluminum coil package according export standard packing. which is strong.
FAQ
1.Why choose us ?

Integrated raw material production enterprises,more cost-saving and quality assurance.

2.Our advantage

We have our own research team, and keeping us develop.

3. How many color produce?

Please contact me , I will send the catalog to you.

If you have any question,please feel free to contact me at any time.
Get the latest price? We'll respond as soon as possible(within 12 hours)