Pre-coating Marble-look Color Aluminum Sheet For Decorate
Brand :Alkonce
Product origin :Henan
Delivery time :30 days
Supply capacity :3000 tons/month
Pre-coating marble-look Color aluminum sheet have PE, PVDF, FEVE coating, bright color and strong durability is not easy to fade. Color is divided into pure color, stone grain, wood grain and embossing coil , Colored aluminum to meet the needs of different uses. and Pre-coating marble-look Color aluminum sheet Can Be customized according to customer specifications and colors.

Pre-coating marble-look Color aluminum sheet Strict quality control, each batch of products have to go through strict raw materials, paint and finished products testing, for indoor decoration products with SGS environmental testing certificate. To ensure that each batch of products meet customer requirements.

We constantly innovative research and development, embossing coating thickness with the world's leading level, outdoor solar mirror reflectivity 95% , 15-20 years warranty, anti-oxidation and corrosion, to the leading level.
Pre-coating marble-look Color aluminum sheet, widely used in the field of building decoration, not only can achieve
the decorative effect of stone, but also solid, recyclable. Our Pre-coating marble-look Color aluminum sheet PVDF coating
will last 20 years outside.Customers can customize a variety of marble texture, we also have 3D texture effects, to meet
high-end customers.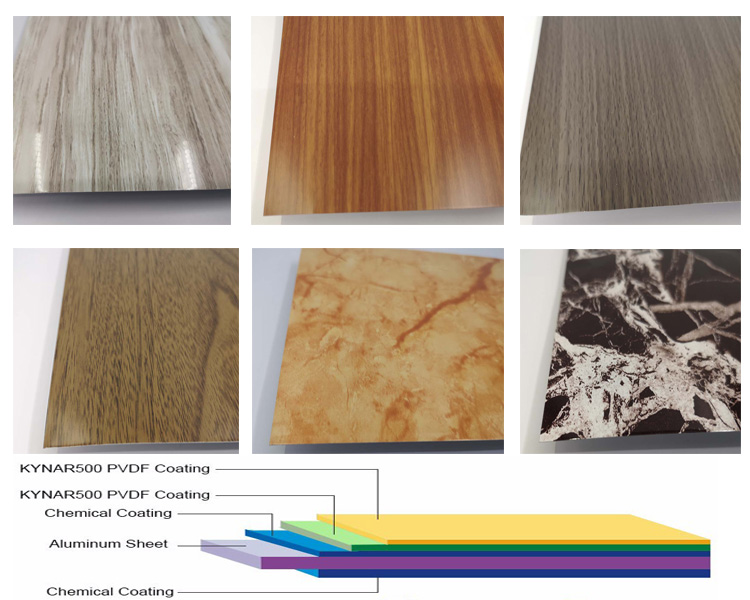 Product Name

Pre-coating marble-look Color aluminum sheet

Alloy

Aluminum 1000series,3000series,5000series

Thickness

0.2mm-3mm

Width

≤1250 mm

Interior Diameter

508 mm-610 mm

External Diameter

1200mm

Paint

PVDF, PE, EXPOSY, PU

Coil Weight

0.5~3.0 Tons

MOQ

6 Tons

Acid Resistance

Surface immersed with 5%HCL(V/V) for 24H without change(PVDF,48H)

Solvent Resistance

Brushing 100 times with butanone no appearance to bottom(PVDF,200times)

Chromatism

The coating color is almost the same as confirmed by buyer and seller,the color difference tested by colorimeter between single coating and sample is less than 1.2( ΔE≤1.2),same lot products color difference ΔE≤1.0
We can accept the third-party inspection before shipment like SGS for Cold rolled PPGI sheets / PPGI coils.
Test Item

Standard

T Bending

0T-3T

Pencil Hardness

HB

Impact

≥9J

Mek(Time)

≥100

Salt Spray

≥720hr

Acid Stability

5%HCL solution soak 48Hr,no bubbles,discoloration,no peeling

Alkali Resistance

Soaked in 5%NaOH solution 48Hr,no bubbles,discoloration,no peeling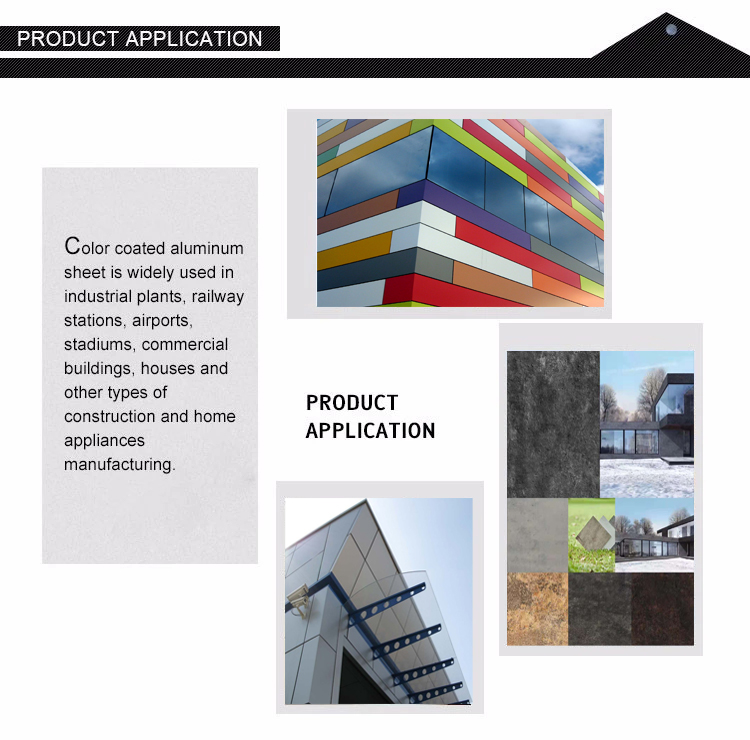 Household Appliance: 1. Refrigerator door panels &side panels, Washer, Freezers, Air conditions
2. Rice Cooker, Microwave Ovens, Water Heaters, Sterilization Cabinets, Range Hoods
3. Computer Panels , DVD/DVB panels, TV back panel etc


Teaching Board
: whiteboard, blackboard, greenboard(chalk board)
Indoor Decoration
: security Door, Fireproof Door, kitchen cabinet, ceiling , Lift Wall Panel,Elevator decoration
Shipping Industries: Ship, Yecht, Marine.
Teaching Board: whiteboard, blackboard,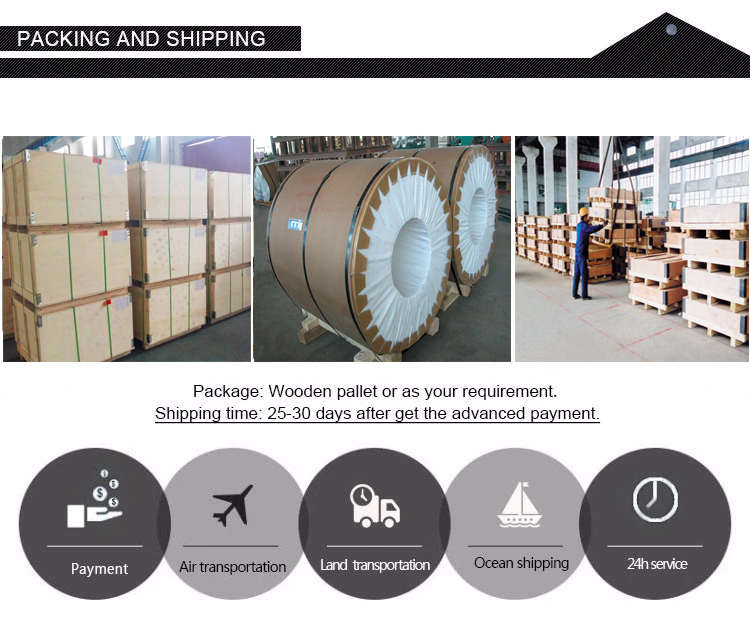 FAQ
Q: Why we choose your company?
A: Because of our profession,we produce printed PVDF,PE

Q: How many kinds of your products?
A: We have more than 500 patterns of aluminum,and more than 300 kinds are wooden aluminum.

Q: What is your difference with other suppliers?
A: Our product's stereo sense is more stronger and with high precision, looks more close to real.

Q: What do you do to control your quality?
A: From the technology,our product is 100% by 3 coating and 3 baking. From the quality inspection, we have QC engineers responsible for Incoming Inspection,Processing Inspection and Finished Product Inspection.
Get the latest price? We'll respond as soon as possible(within 12 hours)