Alkonce Aluminum Composite Panel
Brand :Alkonce
Product origin :Henan
Delivery time :30days
Supply capacity :3000 tons/month
Alkonce Aluminum Composite Panel also known as the structural aluminum plate,it is an improved honeycomb panels that cost not require the expensive price of aluminum honeycomb panels, but more sturdy than it,the quality is more stable.

Alkonce Aluminum Composite Panel composition is pure metal materials, no plastic components,100% environmental protection and fire prevention, and Alkonce Aluminum Composite Panel is also as easy to process as aluminum core composite. Patented three-dimensional physical structure, saving the amount of aluminum, lighter than the aluminum solid panel, the board is more flat, as well the appearance of a variety of options, whether imitation stone, imitation wood or brushed, mirror, can be perfect Show.

Alkonce Aluminum Composite Panel an improved honeycomb panel that does not incur the expensive unit price of aluminum honeycomb
panel but much lighter and slimmer than the latter. Alkonce Aluminum Composite Panel is fully composed of aluminum, 100% environmentally
friendly and A2 Grade fire resistant.It has the feature of easy fabricationlike Alkonce Aluminum Composite Panel.
Additionally,the perfect surface presentation can be shown as a stone-like,wood-like or brush surface.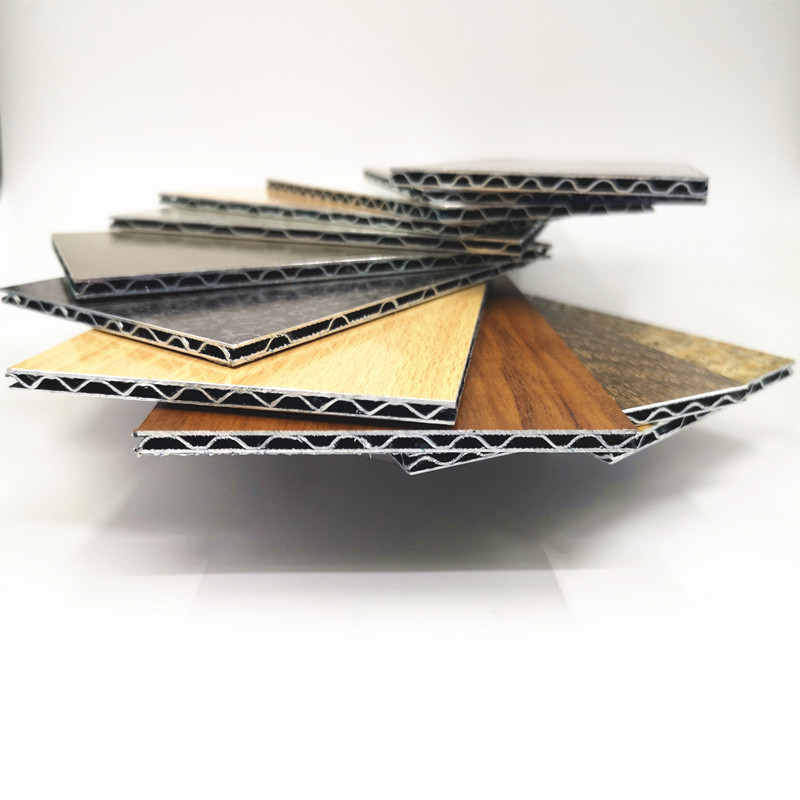 Alkonce Aluminum Composite Panel Advantage:
a) very light,30% lighter than common acm panel;
b) unlimited color:solid&metallic;brush;wood;stone;spectra can all reached;
c) high performance like aluminum honeycomb panel;
d) excellent flatness;
e) A2 Fire Retardant;
f) green material,all recycle;
g) easy fabrication;
Total

Thickness

Top Alu Skin

Thickness

Bottom Alu Skin

Thickness

Width

Length

Surface

Finish

4mm

0.5-1.0mm

0.4-1.0mm

1250mm

(recommend)

≤6000mm;

2440mm


(recommend)

PE




PVDF

*1500mm

WOOD

STONE




NANO

*1220mm

SPECTRA




BRUSH
Minimum Order:800m2/width/color for the standard width.

MinimumOrder:1500m2/width/color for customized width.Customized width is marked with " * "
Get the latest price? We'll respond as soon as possible(within 12 hours)